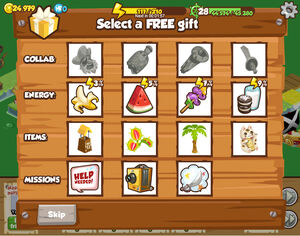 This is where you can gift your gifts to your friends.
Head Part
Jug Part
Leg Part
Sword Part
(For Hook Part and Parrot Part, you need to find it on every maps and treasures islands.)
Banana
Watermelon
Octopus Skewers
Milk and Cookies
Watch Tower
Venus Flytrap
Banana Tree
Maneki Neka
Help Mission
Photo Mission
Monster Mission
You can add photos here if you like.